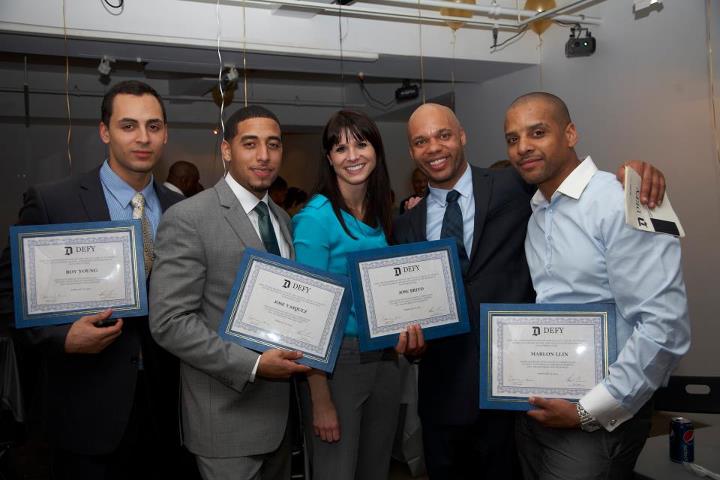 Building the Right Support Team
I was nervous as I rounded the corner heading to John Jay Criminal School of Justice in NYC last week.
I was invited to mentor and coach a group of 30 or so entrepreneurs just completing a major part of their training.
But these weren't just any entrepreneurs.
These were men who completed serving 1-20 years behind bars for serious crimes.
Defy Ventures, a new non-profit here in New York City, whom will be showcased in Inc Magazine's June issue, works with men recently released from prison.  To have made it into Defy's program, these guys were screened heavily for their potential of being successful as an entrepreneur.
What I learned is some of these guys spend their many hours behind bars reflecting on what they had done in their past.  And are very motivated to turn their lives around and doing something positive when they get out.
But the odds are against them.
In fact they are mostly unemployable… not because they don't have an education or skills, but no one wants to hire someone with a criminal history.
As a result, many turn back to crime, because they don't see a choice.  And they don't have the necessary support to get re-integrated into society.
So within six months, over 60% of them find themselves back in prison.
But not these guys, where my initial nervousness didn't last long.
Instead, these new entrepreneurs were so appreciative, humble, and eager for ideas and suggestions on how to take their business ideas forward.  Ideas like:
being the broker between organic farmers in the Bronx and natural food establishments in the City
building an online website for musicians to sell their music royalty-free
having a house painting service using all natural and non-toxic paints and supplies
Towards the end of the evening, ten of them rose to explain what they have gotten from the past several weeks in Defy's training program.  They were unanimous in saying they would never have imagined the world caring about them nor wanting to help them create a viable life for themselves outside of prison.
They all felt they could not have done it without the support they were getting.
And they are not alone.  Most entrepreneurs I've met and worked with are quite similar in this regard.
When you are building an UnReasonable business (UnReasonable= following your passion and really stretching yourself to get there), most need support:
to keep stretching when you psyche yourself out
to brainstorm with for new or alternative strategies
to keep you focused and moving forward
to motivate you when you feel like you're crazy for taking this on to begin with
to hold you accountable to do what you say you will do
But not just any support.  The best is creating a mastermind group:  a group of like-minded people that support each other in making things happen in their businesses and lives.
People that will listen to you for your greatness.  Not for who they think you are, or have been.  So, it most likely would not be your mother, ex-partner or spouse.
From the dozens of these mastermind groups my company has created over the years, there are right and wrong ways to get the perfect support group.
The 10 C's to Creating a Powerful Mastermind Group:
1.   Chemistry—mutual respect and are energized by each other.
2.   Communication—comfortable and able express themselves freely.
3.   Committed—making the team a priority: punctual and ready "work" together for at least three months.
4.   Comfortable—life is already going well and they are not looking to "fix" things.
5.   Connected—already tapped into their "source energy" or express a sincere desire to obtain it.
6.   Contributor—have an innate desire to personally make a real difference for the team.
7.   Coach-able—open to taking the group's coaching recommendations.
8.   Currency—respectful and honoring each team member's resources.
9.   Confidentiality—everything discussed is held in strict confidence.
10. Captivating—ensure the group stays light and fun… lots of laughter.
Creating a mastermind group honoring these principles can really make an UnReasonable experience for each of the participants.
The key, beyond the 10 C's, is in the right size of the group, frequency of the meetings, how the group's rules are managed, the proper way to coach and work with participants, especially when they are in "breakdown".
The cool thing is when these are done well, the group can last for years.
How to create your team:
Create a Meetup.com event
Advertise on blogs, Craiglist or newsletters
Join a ready-formed group
Hire a coach with experience
Just make sure you do not do things alone.  Especially if you are not happy with the results of your progress.  The most likely reason for being where you are is because you're the one that got yourself there.
The guys from last week's event all knew this about themselves.  They were smart enough to get out of their own way and made sure they got a powerful support team in place.
Perhaps you should too?
Action Steps for the Week
Ask yourself, "Would I benefit from the right support team?"
If "yes", what would it look like?  Where would you find them?  Next you would define key types of people you want in your support team.
Then create a simple plan of action for finding and recruiting them.
The sooner you then implement your plan of action, the sooner you'll have people helping you step into your greatness!